Whether you're living in your RV full-time or more of a weekend warrior, you'll want to figure out how to organize your stuff in your camper. Keeping everything in order and in its place will help you have a stress-free camping experience.
But the truth is, travel trailer storage ideas are only as good as the philosophies behind them. What we mean by this is you can soak in as many RV organization tips as you want, but — if you don't absorb the best RV organization philosophies — you'll just be treading water.
This article is the only one on RV organization tips that you really need because we'll focus on the philosophies behind the tips. Instead of just showing you how to organize your shelves, we'll show you how to put less stuff on those shelves. Instead of RV organization tips that you can find anywhere, we'll show you why it's important to rethink the meaning of the word organization. And instead of helping you find new places for your stuff, we'll show you why less is more when it comes to organizing your RV storage.
The Best RV Organization Tips and Philosophies
Tip #1: Multi-Use Items Are Your Friend

Always look for opportunities to use multi-use items in your RV. Doing so will free up space in your rig and give you less items to worry about putting away and keeping clean. This translates to more time for the fun stuff!
Kitchen Multi-Use Items
Everyone needs gadgets and utensils to cook with. This is why kitchens are often the most cluttered and cramped space in an RV. Here are a few multi-use items that you can utilize in your food prep space:
Mason jars can be used for food leftovers, storing small items, and as everyday drinking cups. Anytime you can get three uses in one, you're winning at RV organization.
The right wooden cutting board can be used for its stated purpose, as wall art, and as a serving tray.
A roll up dish rack can be used as a dish rack, drying rack for washed fruits and vegetables, and a surface for hot pots in the kitchen
Find nifty gadgets that fit your unique cooking needs and style by simply searching "multi-use kitchen utensils" on Google.
Bathroom Multi-Use Items
The bathroom is another small space where there's a lot of things you can't cut back on. Luckily, these things have several purposes.
Turkish towels work as shower towels, blankets, and shawls.
3-in-1 soaps can cut back on the number of bottles taking up shower space.
Coconut oil can be used for body lotion, but it's also great for cooking. There are tons of uses for this!
Other Multi-Use Items to Have
While other areas of the RV may not be needing to save as much room, these items are great must-haves thanks to their many functions.
Shoes take up a crazy amount of space and will quickly torpedo travel-trailer organization because of the space they demand unless you find multi-purpose shoes like Hey Dude Shoes.
S-hooks have infinite uses to help you with RV space-saving. They can be used to hang towels, produce, decor, and more!
Shelved headboards can be used to store books, tablets, or any other gadgets needed for your adventures.
Also be sure to check out furniture like coffee tables, footstools, and ottomans that double as storage. If you want to have any of these furnishings in your RV, why not make them double as storage? Many IKEA ottomans double as storage cubes.
Tip #2: Use Vertical Space
The key to RV organization is all about using your space effectively. This sometimes means stacking and storing upwards. Using vertical space will give you more room to walk around, as well as free up counter and table space. Here are some ways to utilize it.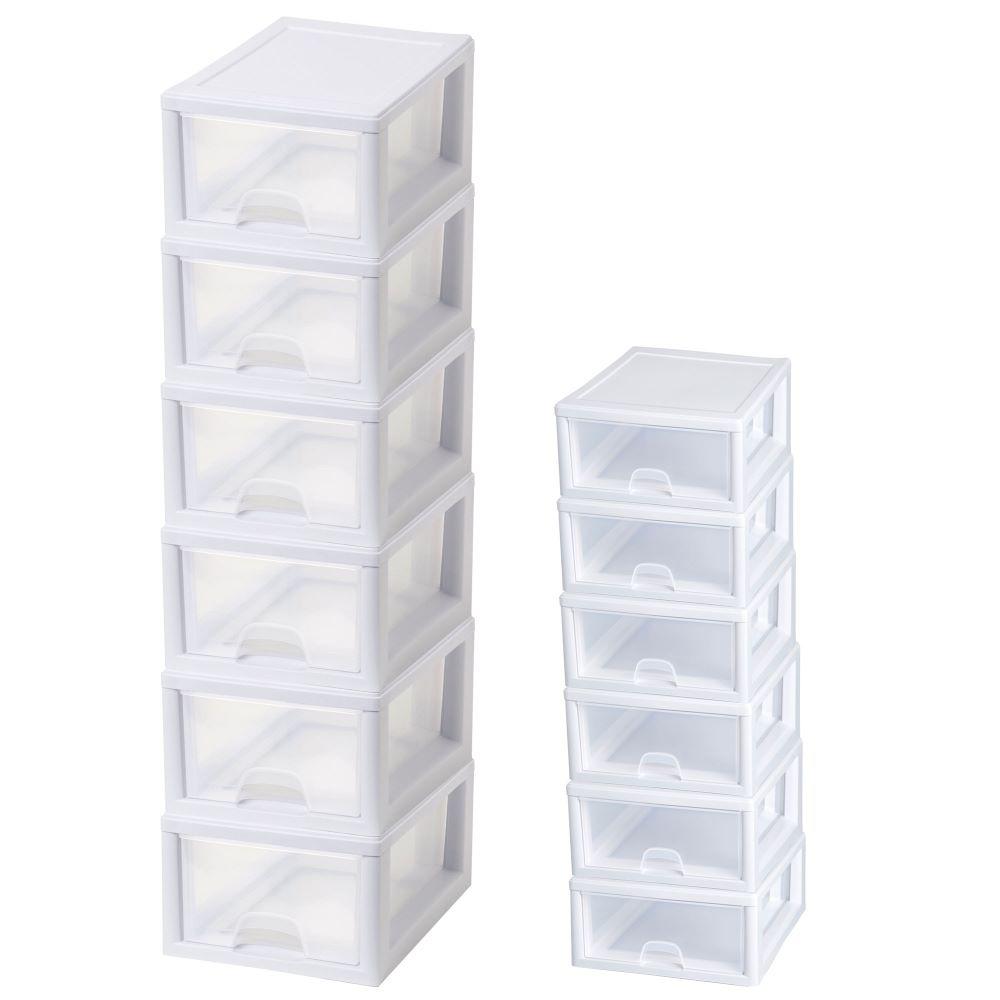 Stacking drawers like these stacked and configured to fit in any space. You and take two and place them in a cabinet, or make a tower in a closet. Just make sure to properly secure the drawers so they don't tumble down in transit.
Shelves are another great option to help you make use of vertical space. But again, just make sure you properly secure everything.
Hanging Storage
If you can't stack it from the ground, hang it from the ceiling or off the wall!
–The vertical area behind cabinet and closet doors can usually be repurposed into vertical RV storage. Placing a hanging wastebasket behind the cabinet door under the kitchen sink is a popular RV organization tip.

–Put hooks in a vertical spot such as a wall by your front door to put your keys. This will eliminate countertop clutter and prevent you from misplacing the keys. 
–The vertical space behind your camper's closet door can usually be repurposed into creative clothing storage with hanging shoe racks.
–A stylish produce hammock can be used to vertically hang fruits and veggies up and out of the way. 
–Hanging shampoo dispensers and shower caddies will keep your RV shower clean and organize
Learn more about hanging storage, as well as other storage and organization ideas from Fate Unbound on YouTube.
Tip #3: Magnets Are Your Friend
Most RVers will attest to the fact that magnets are your friend. Magnetize anything you don't want moving while on the road. By affixing strong magnets to lightweight household items, like table decorations, you can save time when prepping your vehicle for travel. 
Two common magnetic organizers are a magnetic spice rack and knife holder. By putting spices in metal containers and attaching them to a magnetic sheet, you can create a space-saving spice rack that you can hang on the wall or inside a door or out of the way on a wall. For knives, fasten a magnetic strip in your camper's kitchen to easily organize knives and other utensils in your travel trailer.
Tip #4: Foldable and/or Stackable Items = Winning at RV Storage
Bulky items can eat up space quickly in a camper. Luckily, many of these come in foldable, collapsing, and stackable models. This includes items like:
–Nesting pots and pans gloriously stack into themselves, meaning that ten pots take up the space of one large pot. Snag the oven-safe variety for even greater space-saving utility. 
Similarly, Nesting pots and pans and measuring cups can save you space and the frustration that comes with finding just the right bowl.
–It's tough to do pasta without a noodle strainer, but your typical colander commands an outlandish amount of RV storage space. Collapsible colanders beauties will keep you cooking in space-saving style. 
–Pop-up laundry hampers are great for clothes. Some people even put a trash bag in them and use them as a pop-up trash can.
When not in use, these items can be easily stored away.
Tip #5: Think About What You Pack
This is more of a general tip to keep in mind when packing. Ask yourself, "Do I really need that much stuff?" RV life is built to prioritize experiences over material items. By finding ways to minimize the amount of stuff you bring into your travel trailer, you won't have to worry so much about RV storage space. 
One popular rule in the RV community is the "one in/one out" rule. Whenever you bring something new into your RV an old thing must go. Now of course, you don't have to stick to this exactly, but it's a good idea to keep tabs on how much goes vs. how much comes out. Do a spring cleaning every year to get rid of things that you don't use or no longer serve a good purpose.
Try New Methods
Don't be afraid to try new methods in your RV to find what works for you. For instance, many have turned to the KonMari Method to store clothes efficiently while keeping them wrinkle-free. 
Others approach organization by using storage spaces for one purpose only. For example, if you devote a small storage cube to shirts and make that your only cube for this purpose, you will put a boundary on the number of shirts you can get.
Read up on the different methods and see which might fit best for your RV lifestyle.
Less Is More
RV storage and space-saving tips abound on the internet, but those tips are only as good as the philosophies behind them. Traveling in an RV is one of the most freeing experiences to be had in this life. By treating your next RV trip as a chance to minimize stuff, to maximize uses of remaining items, and to utilize every nook and cranny, you can spend more time enjoying and less time stressing about RV organization.