Campers and Glampers: Campgrounds vs Luxury RV Parks
RVs come in practically every shape and size because RVers are not one-size-fits-all. Some of us like boondocking and consider ourselves camping minimalists. Minimalists like rigs that help us disconnect for days in places like the Bureau of Land Management's (BLM) free dispersed camping areas, and we bring only the necessities with us.
Some of us think an RV trip isn't complete without full hookups and access to Wi-Fi, and we like to call ourselves glampers because why get dirty if we don't have to? Those of us who are glampers bring what we'd use at home — and sometimes even more — with us in our motorhome. 
No style of camping is wrong; it's just different. That's why RV parks and campgrounds with every level of amenity exist, to please the people who want nothing or those of us who want it all. If you are a person who wants it all, then a luxury RV park might be perfect for you.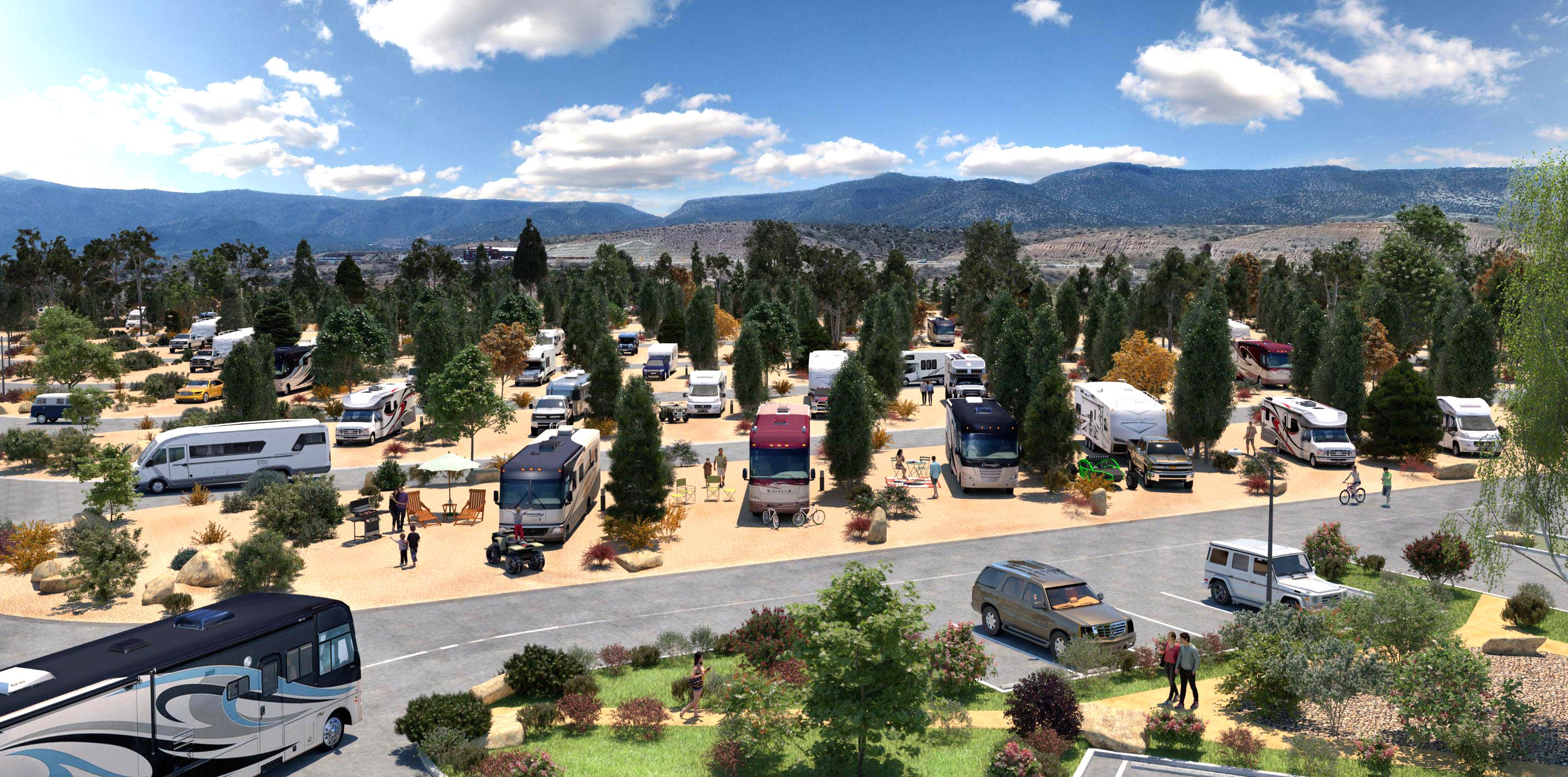 What makes a good luxury RV park?
A good luxury RV park, or a motorcoach resort, sparkles and catches the eye of every glamper who pulls through the supersized sites. Depending on the resort, upgraded RV sites offer campsite amenities such as extended driveways, casitas, patios with propane grills and outdoor furniture, grass-lined concrete pads, outdoor lighting, gas fire pits, and even fenced-in areas for dogs.
Luxury RV parks almost always have:
If you are lucky enough, the sites come with concierge services, so you don't even need to clean your tanks or fill your propane on your own.
What other amenities turn an RV park or campground into a luxury motorcoach resort?
Luxury motorcoach resorts have all the makings of a five-star resort, from high-quality amenities to a constant flow of activities.  Luxury RV campgrounds have swimming pools, hot tubs, and resort-style cabanas or poolside areas. Luxury RV parks have upgraded laundry facilities, restrooms, workout areas, and clubhouses. Sometimes, the clubhouses double as game rooms, restaurants, and rental facilities for e-bikes, golf carts, paddleboards, pickleball, or bocce ball equipment. Often, luxury motorcoach resorts have an activity coordinator on staff, and there is something to see or do almost every day of the campground's peak season. Did someone say BINGO?
Why are there RV or age restrictions at some luxury RV parks?
Because these resorts have enhanced upkeep and impeccable campground and community areas, luxury RV resorts almost always have restrictions on the age or style of the RV or camper permitted inside the park, and in some cases, age or pet restrictions in place. Exclusivity is the name of the game at some luxury RV resorts.
Before booking your luxury stay, research the resort. Look for words such as active lifestyle community or 55+ community. Don't be discouraged if you aren't in that 55+ active adult lifestyle range, some of these resorts permit younger RVers, but you just have to ask the criteria for a short-term stay if you don't meet the age or rig restrictions.
How much do luxury RV parks cost?
The average price to stay at a luxury RV campground ranges anywhere between $45 to $150 per night. So, if you plan to stay at a luxury RV park, come prepared to spend some money. Luxury motorcoach resorts or campgrounds often come with a hefty price tag, but you get what you pay for, right?
Price varies on the season, length of stay, and the types of services you might want with your stay. Many luxury motorcoach resorts have seasonal rentals or even ownership options. Some luxury campgrounds permit long-term stays and include the cost of electricity or Wi-Fi, while other resorts include electric and Wi-Fi in the price.
How to Find the Best RV Luxury Parks Near Me
Finding the best RV luxury parks near you is easier than ever, thanks to apps like AllStays or Campendium. These apps allow users to filter the type of campground, campground amenities, campground price points, and campground location with a toggle of a button.
If you don't want to do the searching yourself, we understand. That's why we have put together a list of the 50 best luxury RV parks in the U.S. for our readers and renters. While we've tried to give you a list of the best luxury campgrounds per state, some states cater to the luxury RV lifestyle more than others, so we've broken our list down by the states with the highest-rated luxury RV parks. Happy (luxurious) camping!
Top 50 Luxury RV Parks and Campgrounds
Our top 50 list of luxury RV parks and campgrounds comes from a variety of sources. We've compiled real-time camper reviews across numerous rating platforms such as Google ratings, Campendium, and Good Sam's Club. The list also comes from Outdoorsy's staff recommendations and friends in the RVing community. Our list aims to serve as many areas of the United States as possible and includes family-style campgrounds and private or exclusive resorts. Whether you are looking for a Gulf Shores motorcoach resort, a Desert-Southwest RV park, or a luxury lodge in the forest of the Pacific Northwest, we've found a luxury RV park for you. So, without further ado, here are the best luxury RV parks across the United States.
Luxury RV Parks Alabama
Luxury RV Parks Arizona
Luxury RV Parks Arkansas
Luxury RV Parks in California
Luxury RV Parks Colorado
Luxury RV Parks Florida
Luxury RV Park Idaho
Luxury RV Parks Louisiana
Luxury RV Park Maine
Luxury RV Park Massachusetts
Luxury RV Parks Michigan
Luxury RV Parks Montana
Luxury RV Parks Nevada
Luxury RV Parks New Mexico
Luxury RV Parks North Carolina
Luxury RV Parks Oregon
Luxury RV Parks South Carolina
Luxury RV Park South Dakota
Luxury RV Parks Tennessee
Luxury RV Parks Texas
Luxury RV Parks Utah
Luxury RV Park Vermont
Luxury RV Park Washington
If you want to know some of the best RV parks in the country, whether they are luxury or just fantastic RV parks in general, check out The best RV resorts across the US.